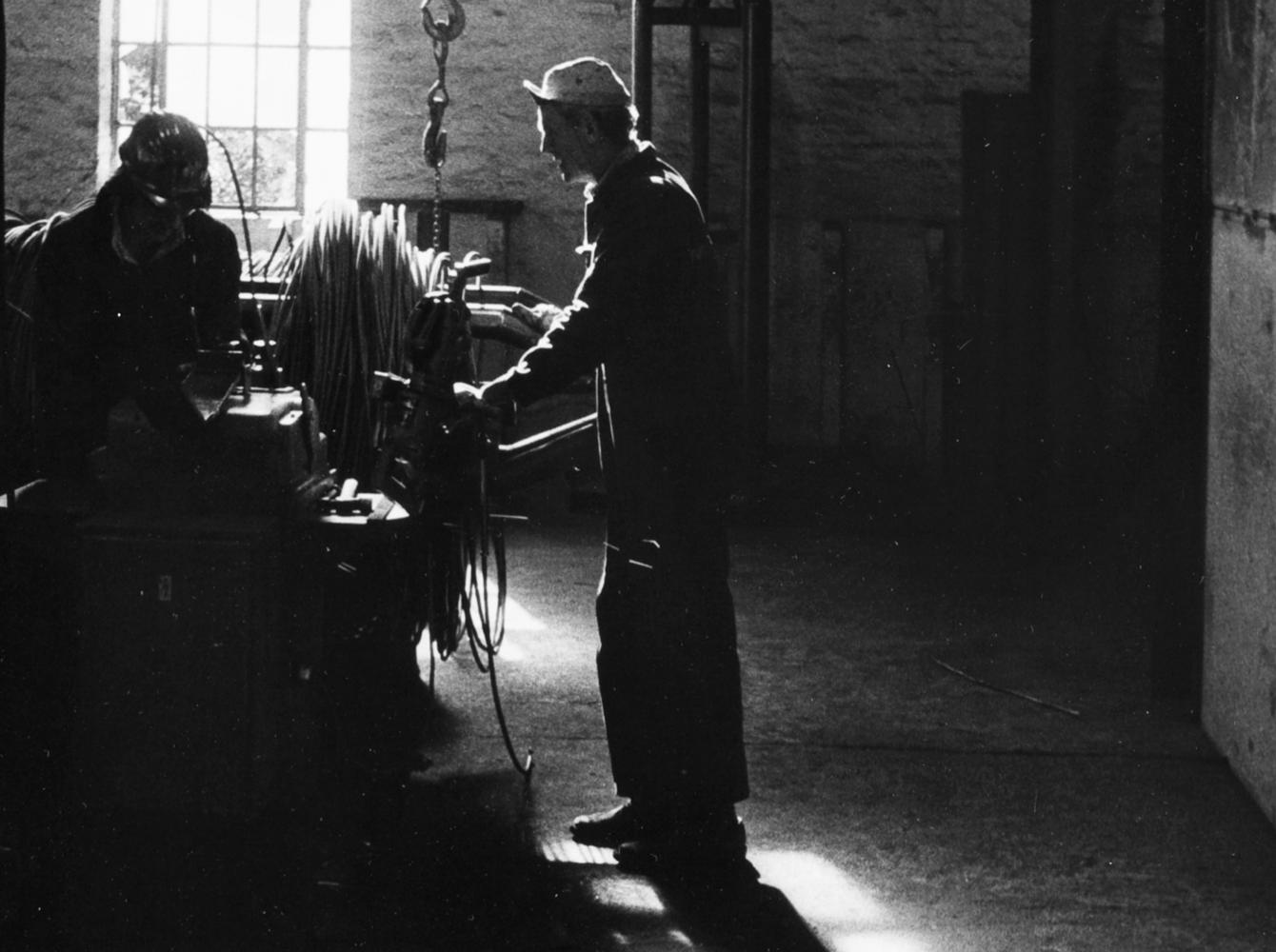 Since 1832
A long and rich history
From horseshoe nails to paper clips
In the early days of the nineteenth century, the industrial scene in Norway was extremely fragmented. The country lacked the necessary infrastructure to allow product specialization.
Most supplies were difficult to obtain so whenever possible they had to be produced domestically. This environment favoured the development of businesses that supplied local communities with everything from food and clothing to tools, schooling and even health services. It was into this pre-industrial world, in the small village of Gjövik, that from 1832 to 1860 Mustad grew to become one of the leading Norwegian suppliers of small metal products like fencing wire, nails, pins, horseshoe nails, shipbuilding nails, paper clips, thumb tacks and an almost endless series of other wire-based products. Business growth and survival depended on both vertical and horizontal integration.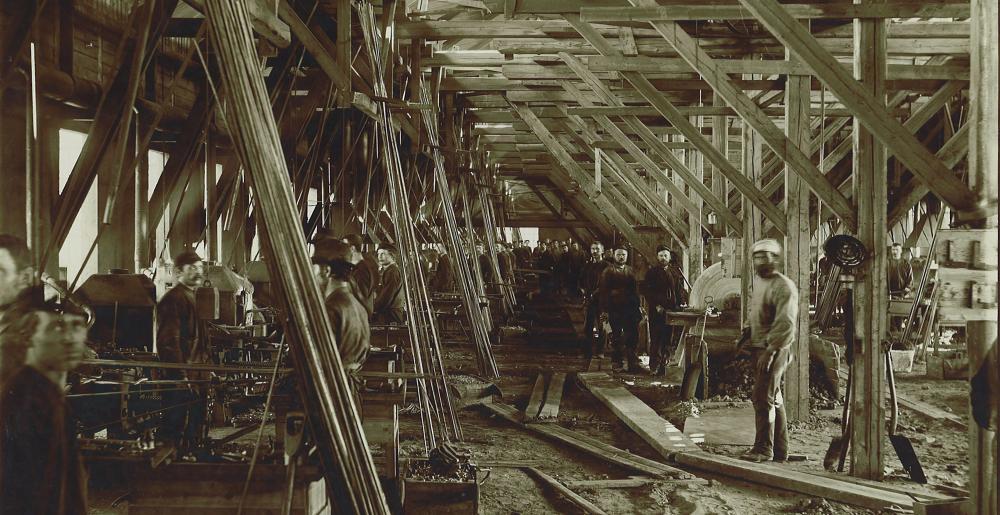 Rapid growth through mechanical innovation
In the latter half of the last century, Mustad developed advanced machinery for the automatic production of horseshoe nails.
This technological breakthrough gave the company a real competitive advantage which led to a rapid business expansion, largely through exports to various European countries. Almost at the same time, the company's fish hook business grew substantially thanks to the development of new production machinery by engineers hired from leading English hook makers together with Mustad's own specialists. The resulting technological advantage was such that Mustad soon became competitive on a European scale in this market too.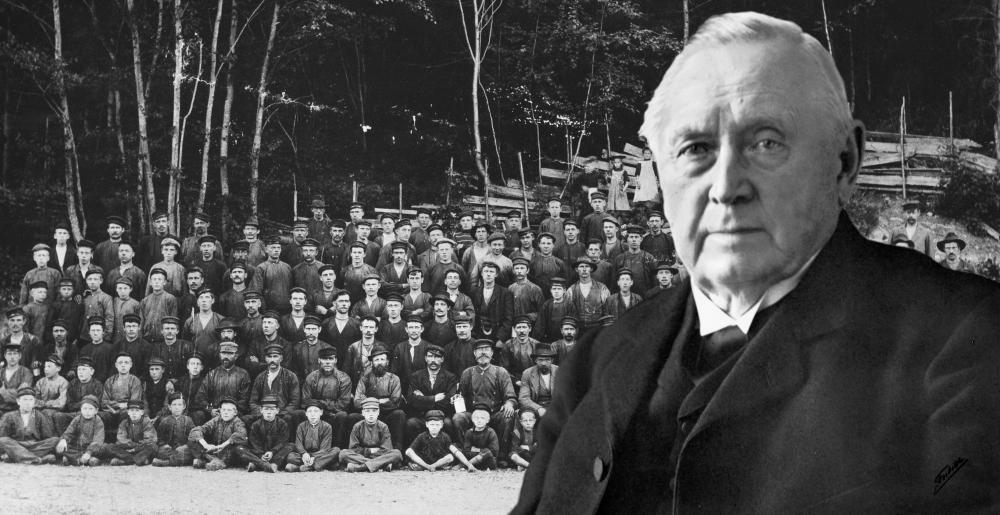 The courage and vision of Hans Mustad transform the company
In the 1880s, however, trade restrictions in Norway placed strong barriers to the company's expansion from its home base, and it was largely thanks to the courage and vision of Hans Mustad, the third generation owner, that the company became firmly set on its way to internationalization.
From the beginning of the 1890s to the 1920s he and his sons acquired over 300 competitors throughout Europe. Modern entire pre-fabricated Mustad factories were constructed in each major market. And by the mid 1920s, the Mustad group led the European horse nail market with some 8000 people making nails on automatic machines in 13 different countries. At the same time the hook business was flourishing on a worldwide scale, with new models being added almost daily and new markets conquered almost every month. The Mustad fish hooks sales force travelled throughout the five continents, to the most remote corners of the globe. The only other salesmen they would encounter in the upper Amazon or on the Congo river, in China or Tasmania were colleagues from Primus selling kerosene stoves or from Singer selling sewing machines. At its zenith, the Mustad product portfolio contained over 105,000 different types and sizes of hooks, to satisfy even the most demanding customer.
Company structure that has stood the test of time
During the early years of expansion the group defined its basic structure, one that has remained almost intact until today: unique brands managed by strong entrepreneurial managers in day-to-day business.
All products can be produced on an optimal economic scale in a very small unit; all products or factories serve a small specific market with the aim of becoming leaders in their sectors through a high quality of product and service. And most of all, all our products must have a very long life cycle; they must serve a stable small set of customers that look for long term relationships with their suppliers. These are the customers that place the highest value on quality, reliability and service – they are our past, present and future.
Many mistakes and many successes
Between the two World Wars and until today the Group has continuously developed or bought new products, eliminated others, always trying to be ahead of the game. Many mistakes and many successes later, Mustad still has the same basic structure, but one that has proved its worth, surviving every major economic upheaval in war and peace. Even after the Second World War when the company lost all its factories behind the Iron Curtain (about two-thirds of its activities and 8,000 employees), its decentralized, independent structure allowed the rest of the organization to survive and grow.
Successes and those that make on laugh or cry!
The major technological inventions that have shaped the success of the Group have all been in metal-mechanical field.
More precisely in small metal parts and in particular in items that can be made from steel wire, horseshoe nails, fishhooks, and screws, hairpins, needles, tacks, boat nails, carding tools, building nails, paper clips, pins, u-nails, foundry nails, aligner nails for coal mines, spacer nails and many, many others. Creativity, customer understanding and an innovation-orientated attitude have always been part of our DNA.
Other Innovations
Other innovations, some of them almost resulting in disaster, but still developed by the same Mustad engineers, were zippers, once a very important company product, as were hydraulic door-closers, roofing fixtures and nail screws. More surprising perhaps were motor scooters, lawn mowers, automatic sand, salt and fertilizer spreaders, electric toilets (burners) and fluidized bed burners! Other more successful products were wood stoves (made by the company for over 75 years), frying pans, waffle irons, hammers, axes and other household hardware.
Mustad Margarine
Another product that became equally important in the life of the Group was margarine. Invented simultaneously and totally separately by Mr. Pellerin at the end of the last century.
This product was finally sold in 1996 by our sister company, Mustad Industries of Oslo, Norway after representing a major division in the Group for almost a century. 
Clarin Mustad
Off the list of "curiosa" products, we are proud to present a small selection of practical products invented by Clarin Mustad, the fourth-generation owner with his four brothers. He was an engineer and the brain behind the development of horse nail machines, fishhook machines (together with maybe the brightest inventor of them all: Makus Topp), and screw machines. But that's not all!
Being a man who valued his personal comfort Clarin Mustad developed the electrically heated toilet seat in 1915, followed by the even more "important" air extractor fan incorporated in the toilet bowl just under the seat. Water skis equipped with ski poles to walk on the fjords were yet another of his ideas. These were large floating pontoons with pivoting flops that would flip up when the ski was slid forward, to flip down again to "grab" water when it was pushed back. The poles were bell-shaped at the bottom with a floating chamber and a perforated rim underneath. His children often walked right around the island in front of their home on these skis, a total of over 5 km. And being allergic to wasting good products, Clarin Mustad also developed a semi-automatic razor blade sharpening machine (something that probably cost him the equivalent of 50 years of disposable blades). 
The famous Mustad 6-wheeler
Some of Clarin Mustad's most cherished inventions were automobiles, of which he developed several.
Perhaps the most impressive car he developed was the 3.4 ton, 6-wheeler, of which two units were built between 1917 and 1919. The car had a summer coachwork, fully convertible and a winter body where the driver sat outside and the passengers sat inside a spacious salon with curtained windows, lamps and beautiful upholstery. The car had twin rear and a single front axle. The first real axle turned concurrently with the front wheels while the second was fixed. The idea of the six wheels was that the system would reduce wear and tear on tires and the road; both of which were of less than optimal quality at the time. In order to stabilize this monster through bumps and turns, the car had the world's first torsion spring/stabilizer struts.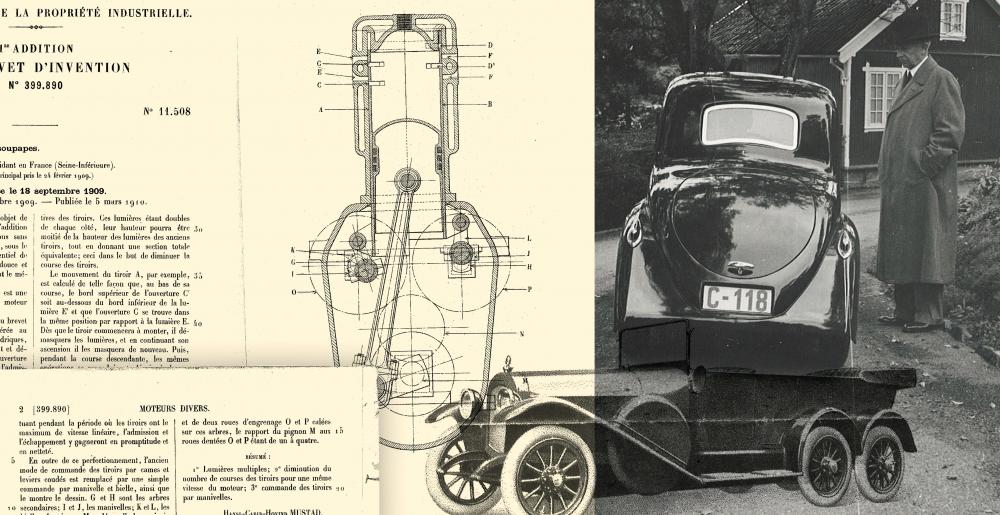 The first version
The first version of the car engine was designed and patented by Clarin Mustad himself. It was a valve-less 4-cylinder, 4-stroke petrol engine of about 80 hp. The valves were replaced by 2 sleeves, each one going halfway around the cylinder, one moving up when the other moved down, with holes on the side for air intake and exhaust. The patent was sold and the famous French car, the Clayette, was equipped with this engine for many years. Ultimately it proved to be relatively inefficient due to the rapid wear of the interconnecting sleeves and was finally forgotten on the heap of surpassed ideas.
A central headlight to improve vision around corners!
The car also had a central headlight that turned with the steering-wheel to improve vision around curves (an idea that was later "copied" in the 1960s Citroen SM).
Also, when there was a wheel puncture, the driver would stop, push a button and the relevant wheel would be jacked up automatically. To re-inflate the wheel, one of the spark plugs was removed and replaced with a special plug with a valve so that the compression of the engine would inflate the tire. These are just a few of the more than 20 innovations incorporated into this extraordinary automobile. As the car was not supposed to exceed 80 km/h, and Clarin Mustad wanted to drive faster, he built a 1120 hp, six-cylinder engine with 120 hp a few years later, which had a top speed of over 120 km/h downhill. Clarin noticed that the car went faster on rainy days, and he correctly concluded that the combustion was improved by humidity (the car ran on very low-octane fuel, about 60 oct.). So he devised an air-humidifier for the carburettor. This comprised a small water-tank with a normal kerosene lamp-wick that was stretched across the air-intake. He then managed to do over 120 km/h even on sunny day.
Norway's first hitchhikers
The car was just right for his large family, it was an 11-seater. A side effect of this fact was the appearance of Norway's first "hitchhikers". Every morning as Mr. Mustad drove the 15 km from his residence to the office he would encounter a group of nine people standing at the bottom of a hill waiting for a ride into Oslo in his large and comfortable car. He could never say no, so they had the best transport in town, all for free. Often Mr. Mustad would tell them that they should not depend on him for transport, for if he were sick they would commit the unforgivable sin of being late for work. They would invariably reply that they didn't worry because Mr. Mustad, being so concerned, would certainly send his driver to take them into Oslo.
This situation irritated him to such an extent that he developed a completely new car just to teach them a lesson. This car became known as the "Egoist", it was single-seater with the gear-shift between the legs and just enough room behind the seat for a slim briefcase. One early morning he had his driver take all his children, nursemaids, wife and various other family members to the bottom of the infamous hill where they hid behind some bushes. At precisely the same time as every day, Mr. Mustad appeared driving his wonderful new contraption. He politely waved at the long-faced hitchhikers who from that day on used public transport to town.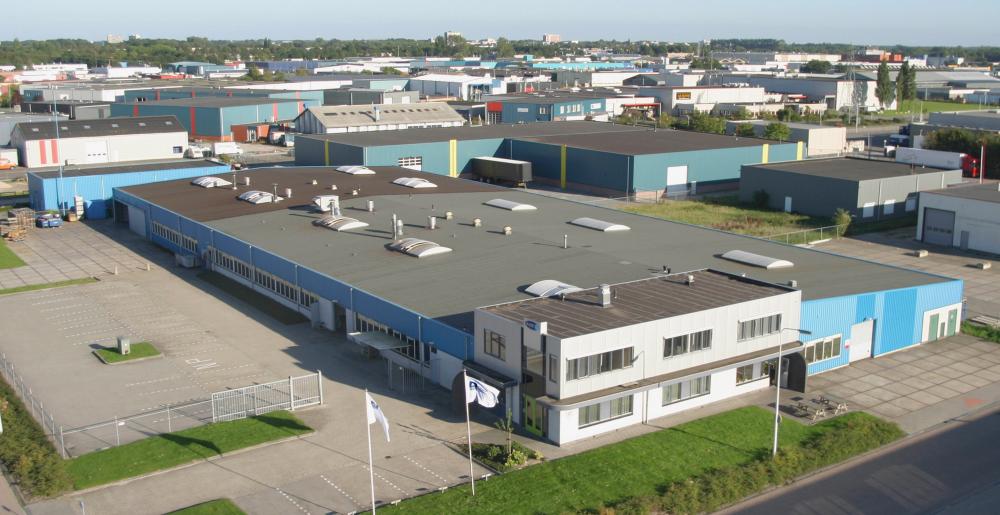 Mustad Hoofcare today
Today, Mustad Hoofcare operates in 16 different countries with 11 factories. Our products include horseshoe nails, horseshoes, farrier rasps and tools. In this field, Mustad is active in almost 100 countries worldwide, offering some of the highest quality products on the market, as we have for over 185 years.